---
FRANK OLIVIER'S TWISTED CABARET COMEDY VARIETY SHOW

HALE'S ALES PALLADIUM THEATER in Seattle, Washington
"Frank Olivier's Twisted Cabaret is a hilarious, action packed comedy variety show with amazing feats of magic, knife-throwing, romance, juggling, burlesque, acrobatics and Cirque – Zinzanni style acts. TWISTED CABARET is like a 'One man Cirque du Soleil meets Penn and Teller.
'It's the night of the big comedy varieté show and the stage is set.'
The theater is packed, but the tour bus with all the performers has broken down. Now Olivier must pull off the show of his life, and perform all sixteen acts himself, aided only by Flynch, his loyal hunchback assistant.
Frank Olivier has been seen on The Tonight Show, as well as America's Got Talent, Ellen, and HBO's Just For Laughs. He is a favorite at Seattle's Moisture Festival, the largest comedy/varietè festival in the world.  Long time fans cherish his act in the Broadway touring show Sugar Babies (with Mickey Rooney and Ann Miller).
Paul Nathan plays the role of Flynch. He's been seen on HBO, MTV, and Star Trek Voyager, as well as in his own "I Hate Children Children's Show", voted best children's show at the Edinburgh International Festival in Scotland.
"Wickedly funny!" – New York Times
"Comedic Genius!" – Las Vegas Magazine
"A one man reincarnation of vaudeville with a decided edge!" -San Francisco Bay Guardian.
 This show is designed for adults, but kids love it too. There is no nudity or profanity. Recommended for children 8+.
---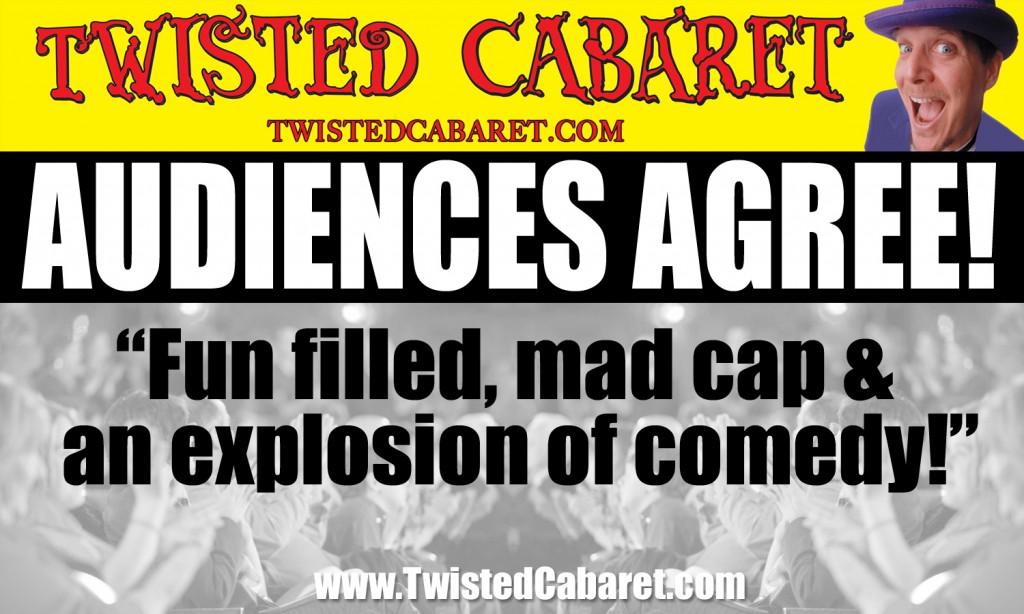 "My husband and I saw Frank's show this evening and had such a fun time. Modern day Vaudeville, I think is a great way to describe it. Magic, music and laughs. Good times!"
"This is, without a doubt, one of the most excellent and incredible live shows I have ever seen. Hands down. Don't miss it!"   ‪
"I have not laughed that much in a long time. ‪Frank Olivier is an amazing entertainer. I took my wife and two teenagers to the show last night and we all liked the show. We found ourselves talking about it today a few times. Don't miss it!"
"Highly recommend seeing this!!!!"
"The San Francisco show was great fun!"
"My son and his girlfriend saw your show in Santa Monica on Saturday and said they have never laughed so much from the beginning to the end."
"Great, wacky fun! Lot's of 'how did he do that?" moments."
"Really fun time with a great clown and circus performer."
"The funniest gut splitting hilarity pandemonium and fun. Frank Olivier is a master entertainer. Gogogo!!!!"
"Everyone NEEDS to see this show! It is incredible!"
"The show was fun filled, mad cap and an explosion of comedy, fun, juggling, magic and utter nonsense. My kind of show."
"It would take any other human 10 lifetimes to acquire Frank's mad skills. He's a one man magic circus carnival, without the unpleasant smell. You'll laugh with eyes agape."
"Best sleight of hand guy I've ever seen. And I used to take my son here regularly as a kid to see the best up-close guys. But none of them juggled active firing tasers and machetes on a 7 foot unicycle while eating fire!"
"WOW!!!!! Amazingly fun! This show is PACKED with variety arts talent!"
"It's a truly "edge-of-your-seat" comedy- suspense-amazement type of show!"
"GO SEE IT. He is amazing."